GENESIS > The Way We Walk - Live In Concert

26 novembre 2001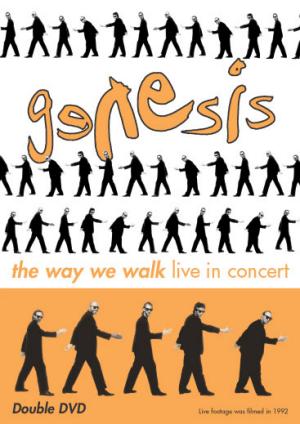 Double DVD - Gut Vision GUTDVD1
DVD 1
01 Land Of Confusion
02 No Son Of Mine
03 Driving The Last Spike
04 Old Medley
Dance On A Volcano - The Lamb Lies Down On Broadway - The Musical Box - Firth Of Fifth - I Know What I Like - That's All - Illegal Alien - Follow You, Follow Me
05 Fading Lights
06 Jesus He Know Me

DVD 2

07 Dreaming While You Sleep
08 Home By The Sea
09 Hold On My Heart
10 Domino
The Domino Principle (Phil's Intro) - In The Glow Of The Night - The Last Domino
11 The Drum Thing
12 I Can't Dance
13 Tonight, Tonight, Tonight
14 Invisible Touch
15 Turn It On Again
Phil Collins : chant, batterie, percussions
Tony Banks : claviers, choeurs
Mike Rutherford : basse, guitare, choeurs
Daryl Stuermer : guitare, basse, choeurs
Chester Thompson : batteries, percussions
Concert (réédition de Live - The Way We Walk - In Concert)
Durée : 134 mn env. (concert) / 480 mn env. (DVD)
Dirigé par Jim Yukich et produit par Paul Flattery
Menu interactif - Options multi-angles - Son surround 5.1 - Commentaires - Interviews - Programme de la tournée
Présentation officielle Gut Vision :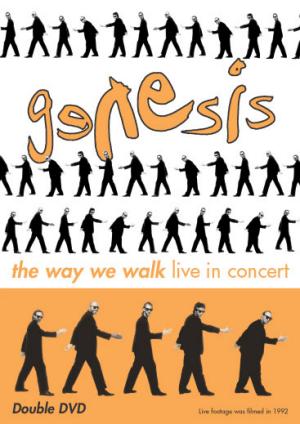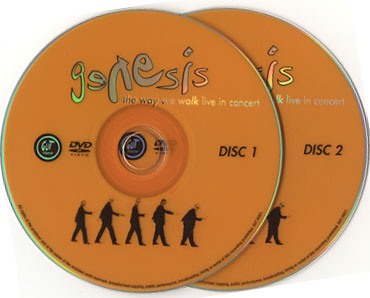 Avec une carrière qui s'étend sur trois décennies, Genesis est sans nul doute un des groupes les plus couronnés de succès dans le monde. Il a vendu plus de 100 millions d'albums à travers la planète et s'est classé dix fois consécutivement dans le Top 10 des albums à la fois en Angleterre et aux Etats-Unis. Phil Collins et Mike Rutherford ont aussi brillamment fait carrière en dehors de Genesis, Collins en tant qu'artiste solo et Rutherford avec Mike and the Mechanics.
Le groupe a vécu une existence haute en couleurs mais tournons nous vers une année en particulier - 1992. Genesis embarque pour une tournée mondiale : 56 concerts dans des stades devant plus de 3 millions de spectateurs. Autour de Noël, le groupe se produit dans 11 salles dont 6 au London's Earls Court. L'année se terminera avec un concert spectaculaire au Royal Albert Hall en faveur du Prince's Trust. Une année incroyable pour Genesis et un formidable cadeau pour leur armée de fans.
C'est un des prodigieux concerts joués au Earls Court qui fait l'objet de ce double DVD. Il s'agit bien plus que d'être au premier rang d'un des plus grands spectacles des années 90, c'est réellement 'Le Meilleur De Genesis' joué par un groupe au sommet de sa forme. Ce DVD live est un des plus impressionnants jamais édités. La performance impeccable du groupe est renforcée par un son surround 5.1. Et pour les passionnés d'interactivité, la performance de chaque membre du groupe peut être étudiée individuellement avec la possibilité de choisir 16 angles de vue différents. C'est sans doute un des plus remarquables enregistrements audio et vidéo jamais réalisés.
Le spectateur a un contrôle complet de sa façon d'observer le concert. Il peut simplement apprécier plus de deux heures et demi de séquence live ou la regarder avec un commentaire en direct du groupe. On accède à des interviews de chaque membre, à une galerie de photos inédites pour le plaisir des yeux ainsi qu'au programme original de la tournée 'The Way We Walk'. En bref, c'est un rêve pour tous les fans : une séquence de huit heures sur deux disques, un accès à des interviews exclusives et des photos ainsi que le pouvoir de se créer un concert de Genesis personnalisé.
'Genesis - The Way We Walk - DVD' : sortie le 26 novembre 2001 chez Gut Vision.
In a career that has spanned three decades, Genesis are without question one of the most successful bands in the world. They have sold in excess of 100 million albums worldwide and achieved ten consecutive top 10 albums both in the UK and the US. Phil Collins and Mike Rutherford have also managed to carve themselves successful careers outside the Genesis fold, Collins as a solo artist and Rutherford with Mike And The Mechanics.
The band have enjoyed an extremely colourful career, but let us focus on one particular year - 1992. Genesis embarked on a world tour. It included playing 56 stadium dates and performing in front of over 3 million people. Around Christmas that year they brought the stadium tour indoors and played 11 dates around the UK, 6 of which were at London's Earls Court. The year was rounded off with a spectacular show at The Royal Albert Hall for The Prince's Trust. It was an incredible year for Genesis and a wonderful treat for their army of fans.
It is one of the phenomenal gigs they played at Earl's Court that is the focus of this double DVD. It is so much more than just a front row seat at one of the great shows of the 1990's, it is effectively the 'Greatest Hits Of Genesis' performed by a band at the height of their powers. It's one of the most impressive live concert DVD's yet to be released. The band's impeccable performance is further enhanced by 5.1 surround sound. And for those real 'muso' enthusiasts, each band member's performance can be studied individually using a choice of 16 different camera positions. It is undoubtedly one of the finest examples of live audio and visual recording ever.
The viewer has complete control of how they observe the entire show. They can simply enjoy over two and a half hours of live footage or watch it with a running commentary from the band. There are interviews with individual band members, a gallery of previously unseen photos for your viewing pleasure, along with the original 'The Way We Walk Tour' programme. In short, this is every Genesis fans dream. Eight hours of footage on two discs, with access to exclusive interviews and photographs, with the power to create a Genesis gig of your very own.
'Genesis - The Way We Walk - DVD' will be released on 26th November on Gut Vision.