GENESIS > The Genesis Songbook

2001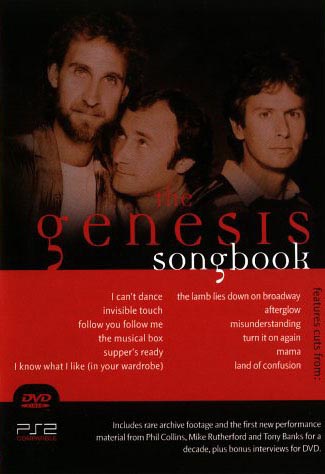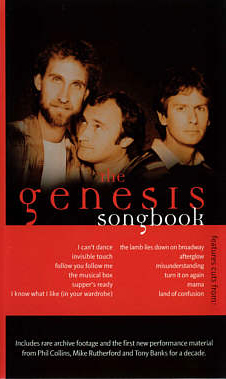 VHS / DVD
01 Coming Together
I Can't dance, Invisible Touch; Follow You Follow Me, The Musical Box, Stagnation, The Fountain Of Salmacis, Horizons, Supper's Ready, I Know What I Like.


02 Exit Peter

The Lamb Lies Down On Broadway, In The Cage, Dance On A Volcano, Afterglow, Follow You Follow Me.
03 Phil Takes The Lead
Misunderstanding, Turn It On, Mama.


04 Invisible Touch
Invisible Touch, Second Home By The Sea, Domino, Land Of Confusion
, I Can't Dance
.
05 The Final Tour
Not About Us, Fading Lights
.
Bonus material (DVD) :
Phil Collins Joins Genesis
Steve Hackett Joins Genesis
Horizons
Writing "Supper's Ready"
The Lamb Lies Down On Broadway
Firth Of Fifth
Bill Bruford Joins Genesis
Chester Thompson & Daryl Stuermer Join Genesis
Follow You Follow Me
Afterglow
No Son Of Mine
Documentaire
Durée : 60 mn env. (VHS), 100 mn env. (DVD)
Dirigé
par Bob Smeaton