Steve Hackett
STEVE HACKETT > Highly Strung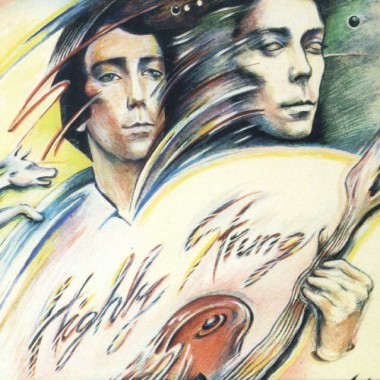 Avril 1983
Virgin HAKCDR1 CD (2007 remaster)
Original release



01
Camino Royale
02
Cell 151
03 Always Somewhere Else
04
Walking Through Walls
05
Give It Away
06
Weightless
07 Group Therapy
08
India Rubber Man
09 Hackett To Pieces
Remaster (2007)
01
Camino Royale
02
Cell 151
03 Always Somewhere Else
04
Walking Through Walls
05
Give It Away
06
Weightless
07 Group Therapy
08
India Rubber Man
09 Hackett To Pieces
10 Guitar Boogie
11 Walking Through Walls (12" version)
12 Time Lapse at Milton Keynes
Steve Hackett : guitar & vocals
Nick Magnus : keyboard & devices
Ian Mosley : drums
Nigel Warren-Green : cello
Chris Lawrence : contrabass
John Acock : keyboards

All songs written by Steve Hackett except 01 & 09 : Steve Hackett, Nick Magnus
Produced by Steve Hackett and John Acock
Steve's equipment: Ovation UK II, Les Paul, Stratocaster, Giffin. Marshall 100w & 50w Amps. Pete Cornish pedalboard, Echoplex, Energy Bow, Slide, Hohner Harmonica.
Nick's Keyboards: Jupiter 8, Memory Moog, Steam Piano, Moog Source, Mini Moog, Korg CX3, Vocoder Plus, Emulator, Rhodes, Harpsichord, Prophet 5, Linn LM1.
Ian's Drums: Yamaha with Evans heads
Creative Engineering & Good Vibes from John Acock, Rafe McKenna & Brad Grisdale.
Assisted by Bob Kraushaar
Recorded in London at Berry Street Studios, Marcus Music & Redan Recorders.
Mastered by Kevin Metcalfe at Utopia Studios, London.
Cell 151 recorded February 1982. Walking Through Walls, Camino Royale & Always Somewhere Else recorded May 1982. Group Therapy recorded August 1982. Give it Away, Weightless, India Rubber Man & Hackett to Pieces recorded October & November 1983.
Special thanks to Linda Harris at company headquarters.
Equipment: Neil Biscoe & Ged Fitzpatrick
Camino Royale
Walking along the Camino Royale
The Mississippi sighs
Soft in the night
When the wind starts to rise
And I'm lifted high around the corner
So I spin
Fast as a ride at the fair
Like a snacke that flies through the air
When I cry enough I'm fired from a gun
And thrown through the doors
Only the fool learns to get through
Ahead I see candles floating in pails
Each placed upon a chair
Into a tent
Where they turn round the bend
Through a kitchen leading to a staircase
Now I stop
Seems that I've been led astray
There are no new answers today
The road is blocked
Only the fool learns to get through



Cell 151
My lucky number is on a prison door
And its found on everything I wear
And I've got to get away
From 151
Cell 151
Sharing with me is a man
Who shot his wife
And I'm afraid to fall asleep at night
And it makes me sad
Thinking about the past feeling bad
I know I've been blind
All I need is a space to unwind
But I can't stay
In 151
Cell 151
Hear me when I cry
I can't see the sky
Too much time
I left the world behind
Walking Through Walls
(Written on a daily jog past Holland Park, London)
Time improves you or dilutes you
But there is no standing still
If you don't scream nobody hears you
If you won't fight then no-one will
When I'm walking
Walking through walls
Walking through walls
You can breathe under water
You will find it hard at first
Getting used to ritual slaughter
Feeling like your head might burst
Bare your teeth and bang your drum
Get up on your legs and start to run
No no no you can't sit down
No-one's friend and no-one's clown
You can't argue with a mad man
Age of reason's sinking fast
As your arms become steel girders
Crashing through a sheet of glass
Give It Away
A broken heart's not easy to mend
Why must you break it again
When you lose your prize possession
Look around you're no exception
Give it away
Your mind is all made up
When you lose your first love
You'll never feel that way
No-one can take her place
When you lose your self-expression
It's just time to change direction
Give it away
When you start you're lovers and
Friends
But when you part you're strangers
Again
Now the time just passes slowly
Time to live for yourself only
You watch the years go by
And she's no longer there
Then one day you will find
That you no longer care
When you lose your prize possession
Look around you're no exception
When you lose your self-expression
It's just time to change direction
There's no need for more protection
Weightless
(From a personal hang-gliding experience. In fact, just another song about hang-gliding over Rio de Janeiro)
Far in the distance and way up high
Circling slowly beneath the sky
Lone in the air and the world is turning
Looking the eagle straight in the eye
What goes up must come down
And you circle all around
On your own
You're seeing things in a dream
You learn to swing
Over trees in the clouds
It's a breeze
Blowing around
India Rubber Man
India rubber man
How far can you bend
Way across the sea far and wide
Bending the rules now and then
India rubber man
How long can you extend
The more I stretch the more you ask
Illusion has no end
India rubber man
How high can you ascend
Up and up and then disappear
I'll show you with my magic rope
India rubber man
How far will you go
I really have no plans
I work in a medicine show